MC Chunk Get




Get coordinate boundaries of a chunk by providing any x, z coordinates inside of that chunk in Minecraft.
Usage
This application was written in the AutoHotkey1 scripting language & can be run in 2 ways:
The provided '.ahk' file is an AutoHotkey script & can be executed with the AutoHotkey.exe program which can be installed locally or as a portable program.

If AutoHotkey is installed or .ahk files are associated with the portable executable then you should be able to just run the .ahk file like any other executable.

If AutoHotkey is portable and .ahk files are not associated with .ahk files then you have to run the .ahk file by passing the .ahk file to the AutoHotkey.exe as a parameter.

There are 2 stand alone compiled exectuables in the 'compiled' directory which do not need AutoHotkey to be installed.

You can compile this yourself with AHK's - Ahk2Exe.exe provided with the program.
Preview
Quick video preview: MCG on YouTube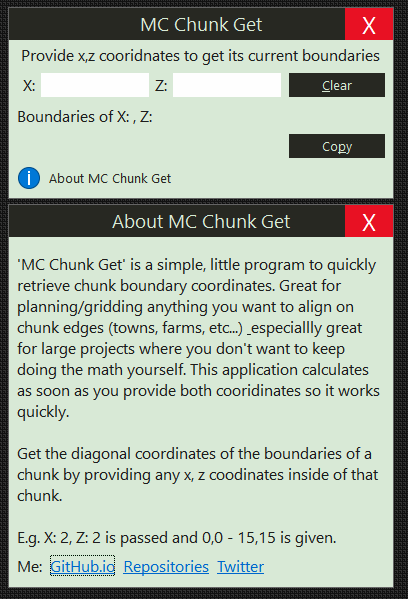 Installation
This is a portable application & can be placed anywhere you put your portables.
Files
Main
MC Chunk Get V1 32Bit [Compiled]
MC Chunk Get V1 64Bit [Compiled]
To Compile
Notes
1: AutoHotkey - A full featured Windows scripting language with hotkey & gui support & focus on automation.
License
This program is free software: you can redistribute it and/or modify it under the terms of the GNU General Public License as published by the Free Software Foundation, either version 3 of the License, or (at your option) any later version.
This program is distributed in the hope that it will be useful, but WITHOUT ANY WARRANTY; without even the implied warranty of MERCHANTABILITY or FITNESS FOR A PARTICULAR PURPOSE. See the GNU General Public License for more details.