Volume Revolver V2
Quickly change the system master volume on the fly using modifier keys (Control,Shift,Alt) and the mouse wheel.
Program Features
Change your volume quickly

without having to move your hand across the keyboard
without having to move your hand away from the mouse

Toggle mute

Wheel up/down for mute on/off respectively
Click wheel to toggle opposite for current state

System tray options

All volume options
Enable/disable at user login
Toggle hotkeys on/off
Help screen
Current Release
Volume Revolver V2 32 Bit
Volume Revolver V2 64 Bit
Latest Release Page (Should contain same links as above)
All Releases
Github Project Page
All Official Releases
Motivation
This is a 2nd version of a program I had already written, but since this is a complete re-write and very different I am releasing this as its' own project.
I wanted something to help me quickly change my system volume very quickly without barely having to move my hands and I wanted it to be portable for my various machines and this is what I wrote.
Installation
Portable program (Plans for installer and portable option).
Test
I have tested on Windows 10 64 Bit
Contributors
Ian Pride @ faithnomoread@yahoo.com - [Lateralus138][FluxApex] @ New Pride Services
Screenshot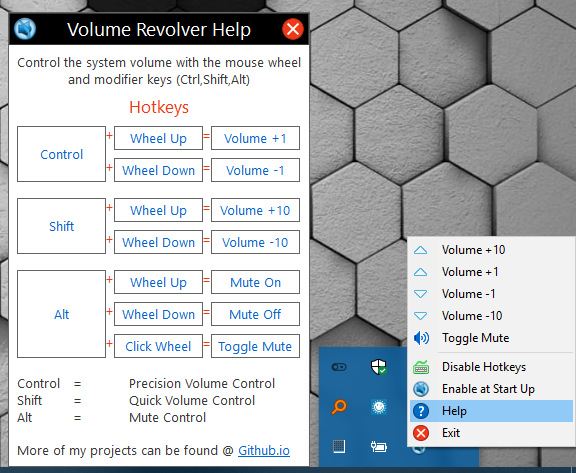 License
This program is free software: you can redistribute it and/or modify
it under the terms of the GNU General Public License as published by
the Free Software Foundation, either version 3 of the License, or
(at your option) any later version.

This program is distributed in the hope that it will be useful,
but WITHOUT ANY WARRANTY; without even the implied warranty of
MERCHANTABILITY or FITNESS FOR A PARTICULAR PURPOSE.  See the
GNU General Public License for more details.

License provided in gpl.txt